Harry Partch | Heiner Goebbels
Delusion of the Fury
"It took us into a magical space…an utterly engrossing fantasy world"
—Telegraph (U.K.)
Composer Harry Partch
Director Heiner Goebbels
Ensemble Musikfabrik
Director Heiner Goebbels returns to Lincoln Center to present his staging of rebellious California composer and iconic outsider Harry Partch's final large-scale work. Populated by the rich sounds of Partch's original instruments, Goebbels's interpretation of Delusion of the Fury weaves the maverick composer's idiosyncratic score with lighting, movement, and song into a spectacular sound realm of lightness and humor that can only be described as otherworldly.
The superb musicians of Ensemble Musikfabrik (who brought Karlheinz Stockhausen's Michaels Reise um die Erde to vibrant life for Lincoln Center Festival 2013) make use of a fantastical array of painstakingly reconstructed Partch instruments to realize the eccentric pioneer's series of soundscapes which improbably blend a Japanese ghost story with an Ethiopian myth.
Don't miss percussion and vocal virtuoso David Moss's performance of a portion of Partch's musical text Bitter Music on Thursday, July 23.
"It was the sheer exotic beauty of it all that was so beguiling— music that seemed totally unclassifiable but which was performed with coruscating brilliance, combined with a ravishing, mysteriously magical staging."—Guardian (U.K.)
"Simply sensational: the audience was nearly blown over by Partch's music."—Die Zeit
Read More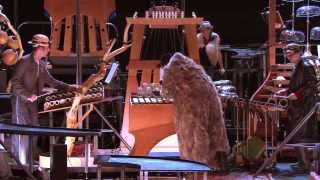 This performance is approximately one hour and 15 minutes with no intermission.
Venue Accessibility
Large-print programs
Braille programs
Wheelchair-accessible seating
Assistive listening devices
For questions about accessibility or to request an accommodation, please contact [email protected] or 212.875.5375.